When it comes to ensuring personalized comfort and enhanced productivity of your workers, nothing works as flawlessly as the newly introduced range of Powered Air Purifying Respirator – the TR-800 Series from 3M. 
Offering a one-of-its-kind, intrinsically safe respiratory solution, this series of respirators is blower certified by Underwriters Laboratory (UL). Not only do these respirators ensure all-day comfort, but also offer various other benefits including integrated protection, reduced risk of injury to the eye, complete with a wide range of accessories such as headgear, breathing tubes, and blower units! Some of the most striking features of these respirators include – color-coded intuitive touchpoints, multiple rates of airflow, and a customizable fit, all of which ensure maximum comfort of the wearer, and enhanced productivity in return! And it goes without saying that PAPRs are designed to ensure more natural breathing, by offering a blower that enables the drawing of the air through the filters thus taking the load off your lungs. What's more? The TR-800 PAPR series comprises of the three distinct products, based on their applications –
3M TR-800-ECK – Easy Clean Kit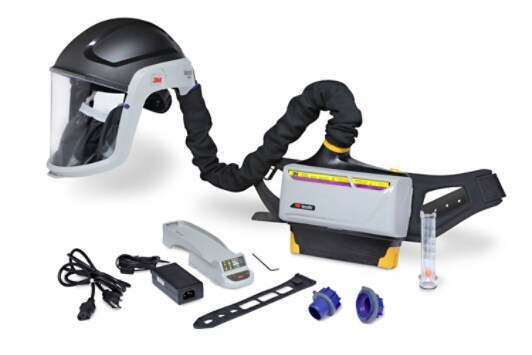 The 3M TR-800-ECK is a complete Powered Air Purifying Respirator featuring an Intrinsically Safe motor/blower. As the name suggests, the TR-800 Easy Clean Kit comprises maintenance-free disposable hoods, which help save a substantial amount of cleaning time while also offering a substantially wider field of view.  It also comes with a TR 627 Easy-Clean Belt as well as a Storage and Cleaning Kit. Simply put, the ECK is a complete kit in itself featuring every component needs for its flawless operation as well as easy cleaning.
The TR-800 ECK is ideal for use in pharmaceutical and other industries where frequent cleaning of the PAPR unit is necessary and is often mandatory.
HIK – Heavy Industries Kit
The 3M versaflo TR 800-HIK is a complete Powered Air Purifying Respirator featuring an Intrinsically Safe motor/blower. This ready-to-use kit is all that you need to fulfill your PAPR needs for use in harsh industrial environments.
The 3M versaflo TR 800 HIK respirators make use of cartridges to offer protection against certain gas and vapors, combined with filters for protection against particulates. The rugged, durable face shield offered with this kit is equipped with a premium visor that helps protect against sparks and debris. Owing to the heavy-duty belt designed with airflow channels, multiple size adjustments, and belt extender options, complete with intuitive, colored touchpoints as well as visual and audible low flow indicators the 3M versaflo TR-800 HIK is as easy to use as one can possibly imagine! Not just this, it comes with multi-speed blower functions up to 16,000 feet with a long-lasting battery ensuring minimal downtime which in turn promotes productivity.
Thanks to its robust design and make, the HIK Powered Air Purifying Respirator is ideal for use in oil and gas refineries, chemical manufacturing, and other environments which make use of IS equipment. 
PSK – Painter's Kit
As can be guessed by the name the kit TR-800 PSK Powered Air Purifying Respirator is ideal for use in paint spray booths or other environments where IS equipment is required. The TR-800-PSK is a complete Powered Air Purifying Respirator comprising of all that is required to protect oneself during a paint spray operation. The kit offers enhanced respiratory protection through TR-6510N OV/HE, which is a combination of a high-efficiency particulate filter and an organic vapor cartridge. Besides, it is designed to offer integrated respiratory, eye, and face protection.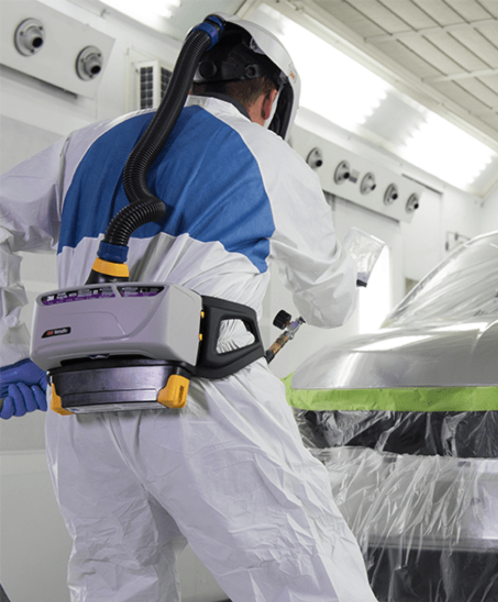 Yet another remarkable aspect of this kit is its lightweight, comfortable helmet wherein the suspension includes 4-point textile straps for better comfort and even weight distribution. Its visor enables exceptional peripheral and downward vision with optical clarity. It comes with a user-friendly design with intuitive, colored touchpoints complete with visual and audible low airflow alarms.  The PSK is ergonomically designed, for greater movement within the paint booth. Since it doesn't require an air-line, the worker is free to move as they need to around the project!
Accessories of TR 800 Series
M-206 Respiratory Faceshield Assembly
The M-206 respiratory Faceshield assembly has an easy to use design with ratchet suspension and liftable visor. It is a lightweight, comfortable PAPR head top that combines a respirator and face shield, with the option of adding earmuffs for hearing protection. One can combine the M-206 with 3M Versaflo PAPR.
Conclusion 
All the above-mentioned PAPR Kits from 3M's much sought-after TR-800 series are exceptional in their own right. Of course, the onus of choosing the kit that best suits the need of a specific work environment rests on the shoulders of the manager and the worker themselves. All said and done, the sheer number of features, customizations, extended battery life, and a wide array of applications make 3M TR-800 PAPRs worth every penny for all industries alike!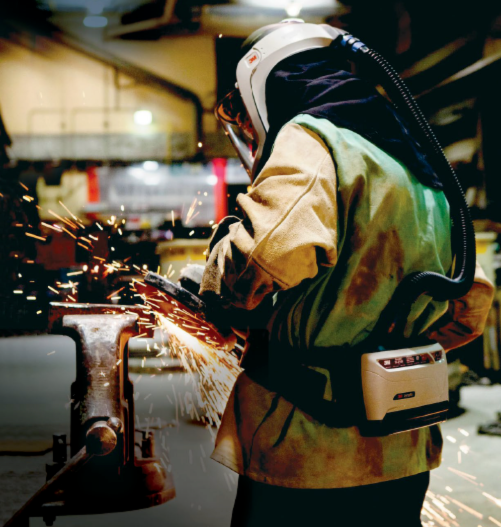 Frequently Asked Questions:
What is the price of the 3M Versaflo PAPR KIT TR 800 PSK
series?
The 3M Ve TR-800 series PSK costs in the range of $ 2,300. Of course, the price may vary depending on the purchased quantity. 
How often should you change 3M PAPR filter?
It is highly recommended to dispose of filters and replace them after every 40 hours of use, or every 30 days at max. In case the filter is damaged or blocked or results in strained breathing it must be replaced immediately. 
Are there any limitations of using 3M TR-800 powered air-purifying respirator?
Any Powered Air Purifying Respirators, 3M or not, should not be used in instances where –
The atmosphere is oxygen deficient
The concentration of the contaminant is uncertain
The concentration of the contaminant is labeled IDLH i.e. Immediately Dangerous to Life or Health 
The location is outside the scope of those tested and classified for intrinsic safety by Underwriters Laboratory.
How to protect the 3M Versaflo breathing tube?
To protect your 3M Versaflo breathing tube, you should invest in a bt 922 breathing tube cover. These covers will help to protect the bt 922 breathing tube and extend the life, meaning that you will be able to use your tube for much longer.
Does the 3M Versaflo PAPR TR- 800 series require a charger?
You should charge your 3M Versaflo with a single station battery charger which can be connected to your Versaflo with a battery attachment tool. The TR 838 battery attachment tool is the most common attachment tool for the Versaflo 3M. Most Versaflos will use the TR 641N single station charging units to power their batteries.
Can the 3M Versaflo be used in explosive atmospheres?
The 3M Versaflo is compliant with the UL 60079 6th edition explosive atmosphere standards which means that it can be used in explosive atmospheres. The Versaflo uses an intrinsically safe battery TR and includes a TR 971 airflow indicator, which will enable you to keep track of your air availability whilst working in more dangerous environments.